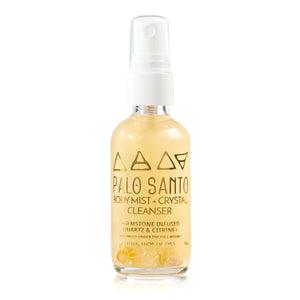 Cleanse away negative energies with our 100% Organic Palo Santo essential oil mist. Spray to cleanse your home, body or as a cleanse for your crystals.

Crystal Infusion: Clear Quartz, Known as the stone of power, amplifies any energy or intention. Protects against negativity & attunes to your higher self. Citrine, Stone of manifestation, imagination, and personal will. Carrying the power of the sun, it is warm and comforting, energizing and life-giving. Shake well to blend
All Natural, Gluten Free, Vegan, Cruelty Free

Gemstone Infused and Charged under the full moon. Handmade in small batches in Costa Mesa, CA. 
Ingredients: ionized PH balanced water infused in clear quartz and citrine, rosemary floral water, witch hazel, palo santo essential oil, cedarwood essential oil, vegetable glycerin, gold mica, natural preservative.