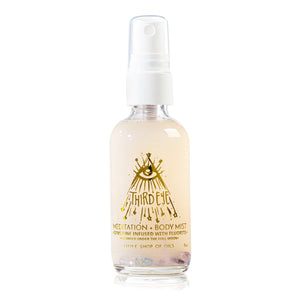 Cleanse your aura and open your third eye with this invigorating mist.
Spray this Cedarwood, Neroil & Frankincense blend to activate the sixth chakra.
Crystal Infusion: Fluorite, Known as the genius stone, Fluorite represents the highest state of mental achievement. Boosts aptitude, awareness, and absorption of new information. Great for helping work through complex issues. Shake well to blend
All Natural, Gluten Free, Vegan, Cruelty Free

Gemstone Infused and Charged under the full moon. Handmade in small batches in Costa Mesa, CA. 
Ingredients: +ionized PH balanced water infused in fluorite, frankincense infused water, neroli floral water, witch hazel, cedarwood essential oil, sweet orange essential oil, sandalwood essential oil, amber absolute, rose absolute, vegetable glycerin, iridescent mauve mica, natural preservative