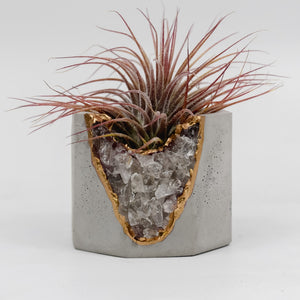 Each geode shape and size will slightly vary from planter to planter. We edge the geode area in liquid gold to create a stunning look. There is NO drainage hole at bottom of the planter. Stone: Smoky Quartz Size: Outside - 2.05" (w) x 1.75" (h). Inside - 1.6" (w) x 1.4" (h). Cement Color: light grey
About the Designers:
Tal & Bert was founded in February 2020 by husband & wife duo, Ray & Val Talbert. Their creations combined their love of outdoors, recreational mining, and art. They started their company in their home studio which rapidly grew into a two studio company with a brick & mortar storefront.