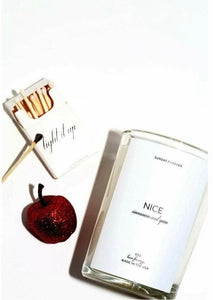 NICE smells like cinnamon and spice, the PERFECT Fall to holiday candle. You're going to want to get cozy and burn this baby on repeat. Lightly scented, loaded with ambiance our luxury candles are one of a kind.
This 9oz candles offer about 40 hours of burn time. This vendor uses a blend of Coconut and Soy wax - this makes for a clean, slow and smooth burn. We use 100% cotton wicks and our fragrances are phthalate free.
Sunday Forever custom made scent can't be found anywhere else and offer a luxury candle experience each time you light one up. These candles are hand poured and hand packaged by a mission based company based in the USA. They support female refugees and artisans by offering them a fair living wage through the art of candle making.